Posted on November 4, 2022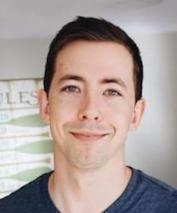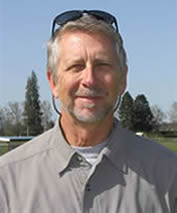 By Steve Ritchie and Eli Ritchie, SuperWest Sports
Is Oregon's Bo Nix a legitimate Heisman hopeful this season?
We think he is.
Nix has some strong numbers backing his case and a great narrative to go along with it. Who doesn't like a comeback story?
Actually, in Nix's case, it's more like a resurrection story, as he was left for dead after his junior year at Auburn.
Steve makes the Case for Nix
Bo Nix is one of just five FBS quarterbacks since 2000 to score at least 20 passing TDs and 10 rushing TDs through eight games.
The others? Jalen Hurts (Oklahoma), Patrick Mahomes (North Dakota State), D'Eriq King (Houston), and Lamar Jackson (Louisville).
Nix's 31 total touchdowns this season ranks him second nationally behind only Drake Maye. This stat alone should put him in the Heisman convo.
And did I mention he has 11 touchdowns in the last two games?
Other than in the season opener, when Nix and the Ducks were stymied by a fierce Georgia defense, the creative schemes of offensive coordinator Kenny Dillingham has had Oregon's offense humming.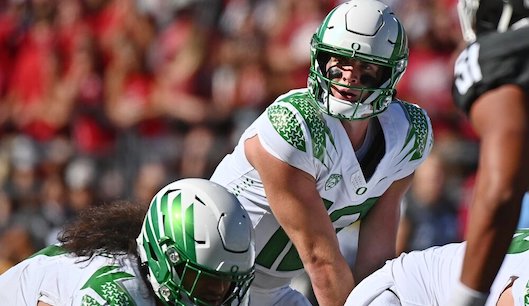 Since that game, Oregon is averaging 48 points a game, going 7-0, with dominating wins over then-12th-ranked BYU and then-9th-ranked UCLA.
Nix has been sacked only one time in eight games, thanks to the protection of a veteran O-line and his ability to move in and outside of the pocket, finding openings to pass or run.
His 7.35 yards per carry ranks second in the Pac-12 and third among all FBS QBs.
Clearly, Nix has the perfect skill set to implement Dillingham's offense, and he is the MVP of a team whose confidence and execution are growing each week.
Nix's Heisman Moment?
Every Heisman candidate has to have that one play, one moment, or one drive to capture the attention and the imagination of the nation.
Nix does not yet have that.
He gained 141 yards rushing against Stanford, including an 80-yard run to break the game open. But Stanford's D is not exactly Georgia's.
He went 28 for 33 against Eastern Washington and 400+ yards passing against WSU and Cal. But those opponents don't have the cachet of ranked schools.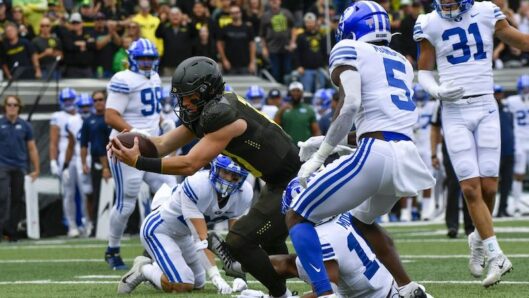 The one highlight from a big game that was widely seen was the 49-yard cloud-scraping bomb that Nix served up to his favorite deep threat, Troy Franklin. It wasn't a game-winner but it was part of a second-quarter explosion that put the Ducks up big.
If Nix were to make any of those plays against Utah or USC it might well be his "moment."
Heisman Voters and their East Coast Bias
There is a school of thought that athletes from the western part of the U.S. get short shrift from Heisman voters, in part because of the late game times.
I don't know that the list of Heisman winners reflects such bias, although I still don't understand why Andrew Luck got passed over in 2011.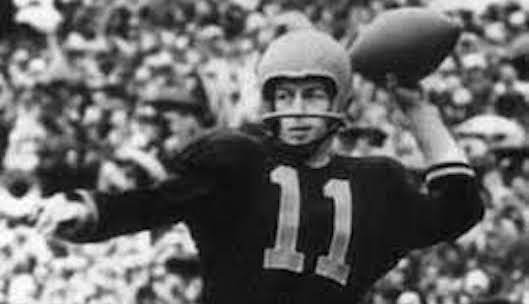 The first west coast Heisman winner was Oregon State's Terry Baker in 1962. There have been 10 more Heisman winners from the Pac-8, Pac-10, and Pac-12, though Reggie Bush's trophy selection was vacated.
Even with the latter award vacated, USC has six Heisman winners—more than the four other conference schools (OSU, UO, Stanford, and UCLA) combined, which each has one.
BYU's Ty Detmer won in 1990 and Colorado's Rahsaan Salaam in 1994, before the Buffaloes joined the then-Pac-10, and those are the only other western schools to field a Heisman winner.
2022 Bo Nix vs. 2014 Marcus Mariota
It's interesting to compare Nix's stats through eight games in 2022 with Marcus Mariota's stats through eight games in 2014.
Unlike Nix this year, Mariota—currently Oregon's only Heisman winner—came into the 2014 season as one of the Heisman favorites.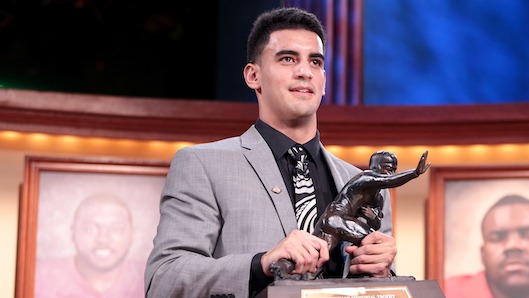 Let's see how their stats stack up.
Passing
Nix: 80 of 249 (72.3%) for 2,221 passing yards, 20 touchdowns, and five interceptions
Mariota: 150 of 218 (68.8%) for 2,283 yards, 24 touchdowns, and one interception
Rushing
Nix: 441 yards, 11 touchdowns, 7.35 yards per carry
Mariota: 325 yards, five touchdowns, 5.24 yards per carry
Based on that stat matchup, Nix compares favorably with Mariota's at this point in the season.
Mariota went on to garner 88.4% of the Heisman first-place votes in 2014, the second-largest margin by a winner in Heisman history.
Bo Nix vs. Caleb Williams
The preseason hype in the Pac-12 was mostly about Caleb Williams, who transferred from Oklahoma to USC, following his coach, Lincoln Riley.
Last season in Norman, Williams took over from Spencer Rattler as the Sooners' QB about halfway through the season.
Williams' performance in the latter half of the season was exceptional, including the OU win against Oregon in the Alamo Bowl, 47-32.
The Trojan QB looked to be the conference's leading candidate early in the season, but his candidacy has hit a couple of speed bumps after a one-point loss to Utah and a close escape with a win in Corvallis.
Williams' stats on the season are close but not as good as Nix's. Williams is 178-275 passing (64.73%) for 2,382 yards, 24 TDs, and one interception.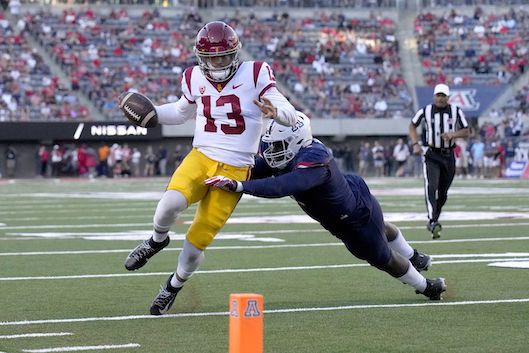 He has more yards and TDs but less accuracy than Nix, compiling 65 rushes for 397 yards, but just 249 net (due to sacks) with three TDs.
Of course, if Oregon and USC were to win out, they would meet in the Pac-12 championship game, in which case, we would get a head-to-head matchup.
UCLA's senior quarterback Dorian Thompson-Robinson has also been mentioned for the Heisman, though to date he has not been ranked as high on the betting boards as Williams or Nix.
Naturally, with four games to go, things can always change. DTR will go head-to-head with Williams on Nov. 19 and it is possible that a big Bruin win and a great play from DTR could rearrange the rankings.
USC receiver Jordan Addison has also been mentioned, but his recent injury does not help his chances.
Eli Handicaps the Heisman Hopefuls
Hendon Hooker, QB, Tennessee (-110)
No surprise at my top choice for Heisman at the moment, as he's the betting favorite. But don't rush to put money down given the current minus odds and the challenging upcoming schedule for the Volunteers.
Hooker has been excellent this season, overcoming his lack of name recognition and leading a once-proud but recently fallen program to an undefeated start and top ranking.
He has been good statistically, but there isn't a clear statistical standout among any of the candidates this year.
Caleb Williams and CJ Stroud have more passing yards and more touchdowns, but lower average yards per attempt and more interceptions. The draw for Hooker is his team and its narrative.
He already has his "Heisman" moment, beating Alabama at home and seeing joyous fans carry the uprights out of the stadium and into town.
Hooker also has a stellar resume.
Quality wins over not just the Tide, but Florida, LSU, Kentucky, and Pitt. A date with Georgia might give him a chance to seal it, even if Tennessee drops a game before the end of the season. A loss against the Bulldogs won't see him drop much unless he plays especially poorly.
CJ Stroud, QB, Ohio State (+190)
Stroud was one of the preseason favorites, given that he already had name recognition, proven ability, high draft buzz, and a team we knew was going to eat the Big Ten alive.
Assuming the Buckeyes go into their season finale against rivals Michigan undefeated, Stroud might have a chance for a defining win, but right now it just feels like Ohio State could walk into the college playoff in second gear.
That kind of season doesn't lead to the Heisman.
Caleb Williams, QB, USC (+1500)

A big-name USC QB is a good bet for some Heisman hype, and the transfer from Oklahoma brought a proven Big 12 resume with him to Los Angeles.
USC has been up and down, lucky to win at Oregon State and competitive with Utah in Salt Lake City, but at times they haven't been convincing.
A meager 8-point win over Arizona last week was lacking in style points, and it seems unlikely USC will end the season without another blemish.
A second loss and Williams probably falls out of contention.
Blake Corium, QB, Michigan (+1500)
Some minus points because I had to google him to remember who he was, despite the fact I watched most of the Michigan/Michigan State game over the weekend.
Clearly, the best offensive player on a team, which is not fun to watch, but his place on the list is indicative of how bad their past quarterback play has been and how good their current record is.
A win over No. 16 Penn State, a team with no quality wins this season, is Michigan's only "quality" win. I'm expecting a clear loss to Ohio State in the season finale will drop Corium from the list of Heisman contenders.
Bo Nix, QB, Oregon (+2500)
Who knew that Nix was going to be a legit dual threat QB for Oregon?
Nix has been as good as any QB in the country so far with his feet, accumulating 441 rushing yards (7.4 yards per carry) and 11 touchdowns on the ground.
He has also been excellent with his decision-making and his passing.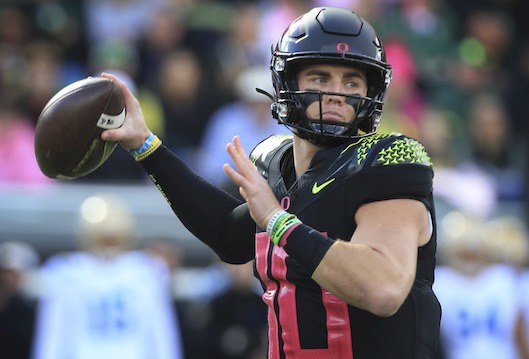 His 169.7 passer rating and 72.3% completion rate are impressive and represent a shocking comeback into the national conversation after the disappointing first game beat down by Georgia.
If the Ducks finish undefeated, beat USC in the Pac-12 title game, and get a little luck elsewhere to sneak into the playoff, he has a chance.
But probably all of that and a little more has to go his way.
Drake Maye, QB, North Carolina (+2500)
Likely a surprise for many who, like me, didn't know much about the Freshman QB for the Tarheels until recently.
A soft early-season schedule and a loss to now-disappointing Notre Dame put North Carolina out of sight and out of mind, but they've quietly put together a string of wins and become the No. 17-ranked team.
He's got a good statistical case, leading the top group and ranked fourth nationally with 2671 passing yards and 29 touchdowns to only three interceptions.
In a weak ACC, Maye won't have another chance at a defining moment until a hypothetical ACC title game, likely against Clemson.
Bryce Young, QB, Alabama (+3000)
Probably a good value bet at this point, similar to Stroud as a potential high pick on a perennial power at the key position for the award.
If Alabama wins out, Georgia beats Tennessee, and the Tide gets revenge against the Dawgs in the SEC title game, Young could find himself in the favorite spot again.
Max Duggan, QB, TCU (+3000)
Duggan is clearly among this group because of the surprising success of the Horned Frogs.
They've already beaten Oklahoma, Oklahoma State, and Kansas State, only a trip to Texas likely stands between TCU and an undefeated season.
Such a season would likely get them in the big show, and Duggan an invite to New York as a finalist, but I would guess skepticism over how they might fare against the big boys could keep him from anything beyond a respectable finish in the voting.
Eli's Top Four
Hendon Hooker
C.J. Stroud
Max Duggan
Bryce Young
---
—More from Steve Ritchie—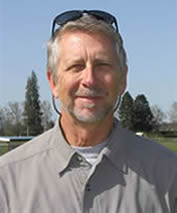 Latest posts by Steve Ritchie
(see all)